ACCUTRON: FROM THE SPACE AGE TO THE DIGITAL AGE
NEW BOOK CHRONICLES ACCUTRON TIMEPIECES FROM INCEPTION TO 2020 RELAUNCH
Accutron—It's Not a Timepiece. It's a Conversation Piece.
ACCUTRON: REVOLUTIONARY TIMEPIECES, RELEASED DURING REVOLUTIONARY TIMES.
1960, New York City, the advent of the Space Age and Accutron technology, and the debut of its most famous electronic model, the Spaceview—a watch the likes of which no one had ever seen and which would go on to become an icon.
2020, New York City, precisely 60 years later—an all-new, equally groundbreaking electrostatic- powered Accutron debuts in equally groundbreaking period, changing time forever, again.
Covering these 60 remarkable years is a new book from equally revolutionary publisher Assouline, ACCUTRON: From the Space Age to the Digital Age.
Written by HODINKEE Editor-in-Chief JACK FORSTER, coauthored and edited by AARON SIGMOND and with a foreword by renowned industrial designer CARL GUSTAV MAGNUSSON, the book is a collector's item that delves into not only the history of the Accutron brand and its technology, but also the Accutron lifestyle and its new generation of precision timekeeping.
Six in-depth chapters highlight the creation and design of Accutron, its position as one of the most important innovations in watchmaking history, its participation in the first great age of space exploration, its work on various projects with the U.S. military and much more. A conversation piece indeed from the '60s to the present, Accutron is now certain to be the center of attention once again, with the book offering an exclusive backstage look at the brand's newest historical timekeeping advance: the world's first watch powered by electrostatic energy.
The book is available for purchase online as a stand-alone item.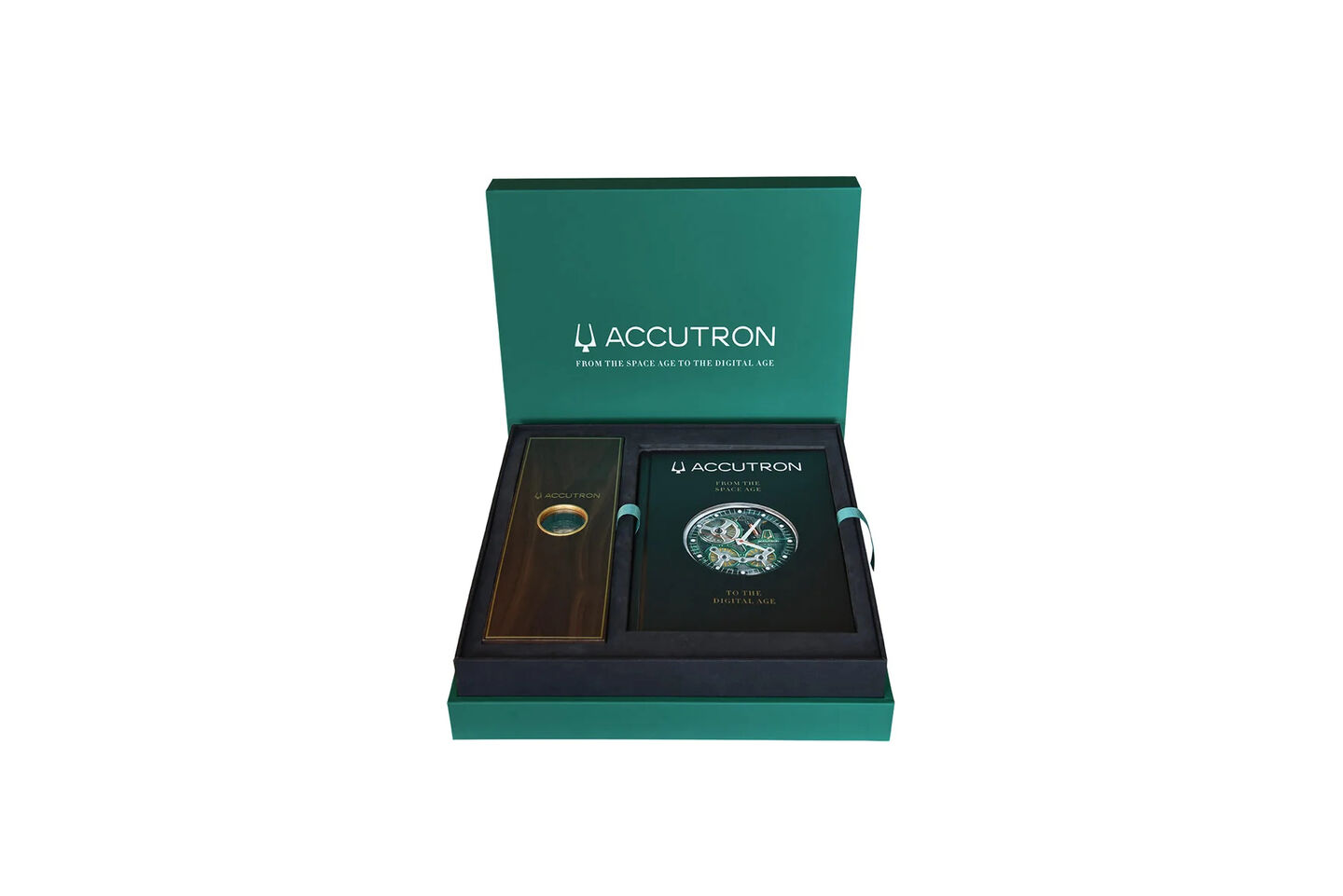 LIMITED EDITION SPACEVIEW BOOK SET (300 pieces): A special deluxe box-edition of ACCUTRON: From the Space Age to the Digital Age, with a limited edition Accutron Spaceview 2020 timepiece — both watch and edition are individually numbered with corresponding xxx/300. The limited edition Spaceview 2020 re-creates the stunning visual impact of the original open-dial design, now showcasing an electrostatic movement, a polished stainless-steel case and bezel, and a signature green dial on a luxurious black grained leather strap with matching green stitch accent.